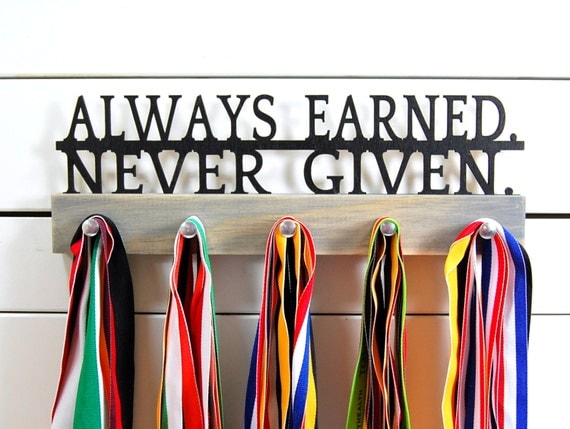 "Winning doesn't always mean getting first place. It means getting the best out of yourself." – Meb Keflezighi, VP of Running, Rock n' Roll Marathon Series
I signed up to run the Seattle Rock n' Roll half with a few of my friends this year and the above quote was the first line of my confirmation email. This says it all. I just couldn't get over how much it resinated with me.
Over and over again, I have expressed that running is about personal growth; for me and not anyone else. I mean don't get me wrong, it would be nice to win the first place prize money, but that is not why I keep signing up for races and that definitely is not why I love running. After completing 13.1 or 26.2 miles I celebrate my own win and it always feels like a first place medal.  I did it, and I didn't give up.
Every runner in the finisher's area received their own medal and has their own story. The medals are more that participants awards. They are awarded to finishers for the hard work and willpower it took to get there. A medal is given to honor that they gave their best and followed through with that commitment.
After putting myself through countless marathons and halves, whether I was first or last; the overwhelming sense of emotion; self-love, and gratitude that powered those last few miles made me feel anything but entitled to the medal.
Once all is said and done, the training logs have been closed, and new registration forms are being filled out; I love that I am able to look up at my wall and be reminded of the hard work I have put in to get to where I am. The trill starts over with just a glance at that shiny pendant.
So what is next? Where will my #BrightOrangeShoes go? The next 13.1 miler is on the calendar but as that approaches quickly, I am craving 26.2 more. The questions to answer are "What city?",  "What state?", "What time of year?", "Themed?" …and so the planning begins.
❤ #BrightOrangeShoes #BOSRunning #RunABetterLife
**Please know the image is not mine but from a really cool etsy page. These are great to display medals and race bibs! Click the image to see that and more cool stuff on PineconeHome's etsy page – Found via google. 🙂 **